February 9, 2015 – Dothan Eagle, By Lance Griffin
Automatic budget cuts scheduled to begin this October would have a significant effect on the communities surrounding Fort Rucker, an Army report concludes.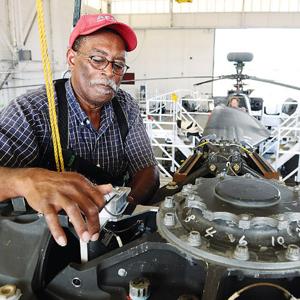 James Reynolds and Yolanda Benton of Army Fleet Support install rotor blades on an Apache aircraft inside a hanger at Fort Rucker in this photo.
According to the report published last year by the U.S. Army Environmental Command, the process known as sequestration could mean the loss of almost 2,500 military personnel and an aggregate loss of $157 million in income and $195 million in sales from the Wiregrass over the span of several years.
The Army estimate is considered a worst-case scenario, but Retired Brig. Gen. Rod Wolfe, chairman of the local advocacy group Friends of Fort Rucker, said losses even remotely close to the Army estimates would be devastating.
"The bottom line is we will lose a lot of jobs if this happens," Wolfe said Monday.
Representatives from Dothan, Ozark, Daleville and Enterprise will have an opportunity to brief Army officials on the potential impacts of sequestration on Feb. 23. Each community will have 30 minutes to make a brief presentation in a private meeting on post. Later that evening at 6 p.m., a public event will be held at the post theater to gather comments from citizens.
The cuts are known as sequestration, a process approved with the Budget Control Act of 2011. The purpose of the act is to cut $1.2 trillion from the nation's budget deficit. The Army responded to the new law by announcing it would significantly reduce troop strength to get within the forecast budget. Although Fort Rucker was not initially one of the installations expected to be impacted by the cuts, further reductions prompted the Army to look at nine additional installations, including Fort Rucker.
According to the report, fully-implemented sequestration could have the following impacts on the installation and nearby communities, over time:
Loss of 2,490 Army positions (1,754 soldiers and 736 Army civilians)
A 9.8 percent reduction in sales resulting in a loss of $194.7 million in sales
A $157 million loss of income
A 1.8 percent decrease in population, resulting in 3,780 people no longer living on post or in nearby communities.
The report cautioned that numbers are worst-case scenarios.
"This number (3,780) could overstate potential population impacts because some of the people no longer employed by the Army could continue to live and work within the ROI (Region of Interest: Houston, Dale and Coffee counties), finding employment in other industry sectors.
"However, because of the relatively rural nature of the ROI and that Fort Rucker serves as a primary employer and economic driver within the ROI, the majority of displaced personnel are likely to move out of the area to seek other opportunities with the Army or elsewhere," the report states.
Community meetings with Army personnel have already occurred at several of the nine additional installations targeted for cuts. According to information provided to the Friends of Fort Rucker in preparation for the Feb. 23 event, full-to-overflow crowds were reported at Fort Leavenworth in Kansas, Fort Huachuca in Arizona, Fort Stewart in Georgia and Fort Campbell in Kentucky.
Wolfe said the post theater seats about 875 people and plans are being made to accommodate an overflow crowd.
"We want to fill it with standing-room only and then we want people in the overflow area," Wolfe said.
If implemented, sequestration would affect about 30 military installations throughout the country.
Although sequestration was a part of a 2011 bill, its effects have been muted due to supplemental funding. That funding is set to expire at the end of the fiscal year. In a letter to Congress last week, U.S. Rep. Martha Roby, R-Montgomery, and U.S. Rep. Tulsi Gabbard, D-Hawaii, said sequestration would not only hurt local economies but would severely impact military readiness.
"Considering the national security threats that we face today and the uncertain threats we will likely face tomorrow, Congress should not allow a dramatic reduction in the Army's end strength or a similar reduction in the capabilities of the other service branches," the letter reads.
The appetite for further military cuts may not be there in Congress this year, and they do not appear to be in the White House either. President Barack Obama's proposed budget calls for an increase in military spending.
However, the pending cuts are automatic until Congress acts.
"We're not seeing any action right now. We need to see something. Our position is one job lost is too many," Wolfe said.
The information above is for general awareness only and does not necessarily reflect the views of the Office of Economic Adjustment or the Department of Defense as a whole.