September 21, 2015 – by Ken Quintanilla, KUAM News (Guam)
Hoping the feds will be more aware of critical issues facing Guam, Governor Eddie Calvo recently made his way to Washington, DC for a series of meetings of with senators and federal officials. Back from the nation's capitol, the island's chief executive said, "I call it a whirlwind trip because we met with so many people talking on critical areas that are important to Guam."
As part of a series of meetings with federal officials, Governor Calvo had a chance to discuss issues considered critical to the island - from the fragility of the island's infrastructure to issues over the Clean Air and Clean Water Act. In fact, the governor had a chance to meet with Environmental Protection Agency administrator Gina McCarthy on concerns over how Guam is looking at possibly $1.5 billion in anticipated costs for compliance with environmental federal regulations.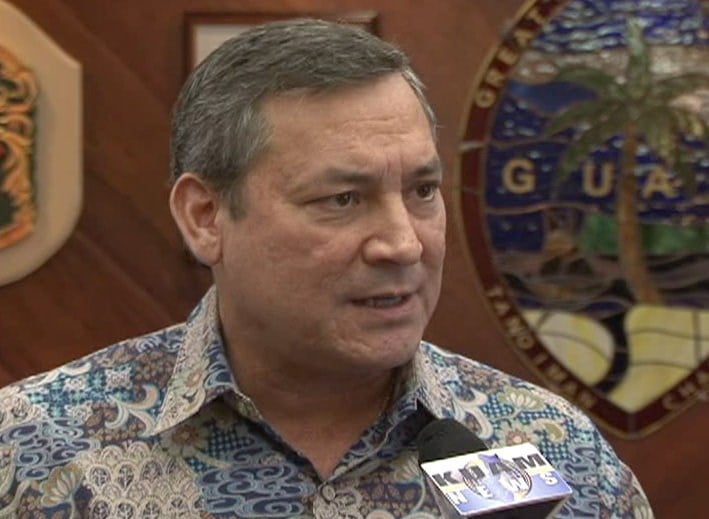 Guam Governor Eddie Calvo
"And it was important for us, that here we have a territory of 160,000 people, we have a per capita income that is much less than the state of Hawaii and many other states," he shared. "And we're having a burden that is nearly $10,000 for every man, woman and child that live on this island."
And while those concerns are being considered, Guam did get some actual answers or rather approval of compensation in terms of Medicare and Medicaid for the hospital. Governor Calvo says in meeting with CMS administrator Andy Slavitt he was able to discuss inequities in terms of treatment with Medicaid and Medicare and compensation he says was far lower than actual costs when it comes to the hospital. "So with that, we made requests based on audits of our true-costs here with the hospital, and right there at that meeting, about an hour later, he okayed the compensation to the hospital for Fiscal Year 2007 and 2008.
"Now, we're still waiting word on Fiscal Year 2013 and also we're looking at a favorable response on Fiscal Years 2009 through 2012 where we have asked for a waiver on certain respects and there's some issues we need to work through," he added. For Fiscal Years 2007 and 2008, the compensation came out to $3.8 million. Calvo believes Guam can get an additional $18-$20 million for the following five fiscal years.
Meanwhile, this trip also marks the governor's first visit to Washington, DC since the Record of Decision was signed last month. meetings were held with people tied with the military buildup, including Office of Economic Adjustment director Pat O'Brien and Alaska senator Dan Sullivan.
"It's a 'One Guam' approach where this will be good for the United States and its allies, but it will be good for the people of Guam. So it was an opportunity to meet with him and to further enforce this message as we move forward to ensure that outside fence investments are made by Congress," said the governor.
Governor Calvo says meeting these federal officials in person has more impact and hopes more changes are made for the island.
The information above is for general awareness only and does not necessarily reflect the views of the Office of Economic Adjustment or the Department of Defense as a whole.