November 19, 2015 – The Tribune-Democrat, By Kecia Bal
A new report quantifies the extent of loss in area defense contracts – more than $700 million in a two-year span – and urges local companies to innovate and diversify.
From 2010 to 2012, the Johnstown area lost an estimated $782,445,252 with defense contract cuts, according to data in the Cambria County Defense Transition study released this week. That's the second highest total defense contract cuts per capita nationally in those years, the data shows.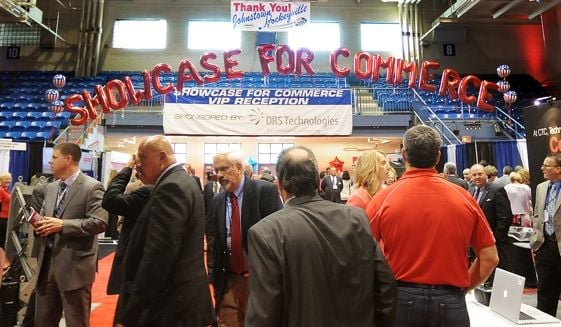 A crowd gathers at the Showcase for Commerce event at Cambria County War Memorial Arena on Thursday, May 28, 2015 (Thomas Slusser/ The Tribune-Democrat).
The 109-page study gives an overview of who, locally, is doing business with the U.S. Department of Defense and highlights ways local organizations can help companies transition from defense markets to other government sectors or the private sector. Supported by Concurrent Technolgies Corp. and Johnstown Area Regional Industries, the study, released Wednesday, was prepared under contract with Cambria County.
The figures are an important wake-up call for contractors and subcontractors who haven't taken steps to diversify, John Dubnansky, Cambria County grants facilitator said.
"It is a reality check," he said. "We've been told (the drop in defense spending) is only going to get worse. We need to develop a plan to diversify."
The report provides the beginnings of those plans.
Funded in part by the Department of Defense's Department of Economic Adjustment, the research cost around $150,000, Dubnansky said. Community Foundation for the Alleghenies provided a grant match. The report identifies 19 local companies that had contracts with the Department of Defense in the federal government's 2014 fiscal year. It lists another 21 area companies that have worked on defense-related procurement projects.
The report references a "perfect storm" of a drop in defense spending and the loss of Congressman John Murtha. The next evolution for area businesses, it said, must not rely on one space but instead represent a variety of industry and development efforts.
In context
The years in focus don't include major recent announcements, such as DRS Technologies eight-year, $2.5 billion contract with the Space and Naval Warfare Systems Command in May, JARI President Linda Thomson said. The $2.8 billion in contracts announced at this year's Showcase for Commerce were competitively bid and won – and represent growth within contracting companies, many from subcontractors to prime contractors and some contracting with the federal government but not the DOD.
"That doesn't mean we can't look for ways to help area contractors and supply chain find new ways to stay strong," she said. "We want to make sure the companies in our region have every tool they need.
"The purpose was to help defense contractors diversify and still be ready, at the drop of a pin, when the country is ready to ramp up defense again."
Still, without a change, the outlook for area companies that rely heavily on defense spending isn't bright, according to the report.
Those firms will face a "sustained and increasingly competitive environment as overall defense spending declines," the report says, adding that recent job gains at a few area firms have not made up for previous industrywide losses.
Thomson said JARI will work to provide services that align with the strategies outlined in the study. There also is additional Office of Economic Adjustment funding funneled through the state to help businesses working to diversify, she said.
"So we have an effort between the county and state to bring as much opportunity to companies in our area as we can," she said.
Next steps
What's promising, Dubnansky said, is that some of the suggested strategies already are underway. Compiled from March through October, the report outlines steps and action plans – identifying levels of cost associated. The county is pursuing additional federal funding to implement those strategies, he said. That could be in place as early as next year.
Key points from the suggestions include working harder to support local metals manufacturing companies and helping them explore other business – from working internationally to contracting with non-DOD federal entities. Officials are hoping to find funding to hire a contractor to push those avenues, Dubnansky said.
Deepest impact
Defense contract cuts from 2010 to 2012:
Oshkosh-Neenah, Wisconsin: $1,894,064,198 or $11,342 per capita
Johnstown, Pennsylvania: $782,445,252 or $5,446 per capita
Hinesville-Fort Stewart, Georgia: $187,835,293 or $2,411 per capita
Manhattan, Kansas: $289,552,359 or $2,278 per capita
Crestview-Fort Walton Beach-Destin, Florida: $367,857,608 or $2,034 per capita
Source: Chmura Economics & Analytics
Potential repositioning strategies:
Select broth market sectors within the defense industry
Pursue international business opportunities
Target non-defense government sectors
Transition to the commercial sector
"The other piece is formalizing entrepreneurial programs already happening in the region, bringing all those pieces together," he said.
Pitt-Johnstown's push to further entrepreneurial pursuits, Community Foundation-housed efforts, such as Entrepreneurial Alchemy, as well as startup-oriented initiatives – like Johnstown-based Aptima Ventures, established this year to identify and commercialize high-potential technologies from a handful of sources, including defense contractors – are a few examples.
"The focus would be related to those DOD-related contractors, but it would be accessible to anybody, by industry," Dubnansky said.
Officials also plan to pursue funding for a consultant to handle a branding effort to position the region – with its five higher educational institutions – as a new, less expensive Silicon Valley, he said, and creating a stronger connection or "bridge" to Pittsburgh and its resources.
"We have great, young minds and a low cost of doing business," Dubnansky said.
The county will guide the effort to implementing the next phase, he said, as well as appointed committee members.
"These are the kinds of program changes we need in the area," he said. "It's exciting to see that we're now going to start implementing."
Entrepreneurial Alchemy Director Don Bonk said the report highlights a bigger picture – a mix of companies, industries and leaders as the new path for the region.
"The new mosaic of multiple and diverse ideas, businesses and leaders is the way forward to health and prosperity," he said. "It's no longer one company or one person but a broad mix of the many bright and talented mosaic pieces building a powerful whole."
The information above is for general awareness only and does not necessarily reflect the views of the Office of Economic Adjustment or the Department of Defense as a whole.