June 23, 2015 – Washington Business Journal, By Daniel J. Sernovitz
Arlington County's office market is as bad as it has been at any time in recent history, with a vacancy rate that's double what could be considered healthy — but Arlington Economic Development Director Victor Hoskins says worry not, he has a plan.
About six months after being lured to Arlington from Prince George's County, Hoskins said he expects to bring the county's office vacancy rate from about 21 percent to 10 percent in the next 75 months, or a little more than six years.
The veteran economic development official, who addressed Leadership Arlington at a breakfast Tuesday morning at Marymount University, said the county can recover from a confluence of events including sequestration, densification, and a cut-back in federal spending. His recipe? A mix of much more aggressive marketing efforts, incentives and other government aid, and the help of "frenemies" in competing local governments such as the District and Alexandria.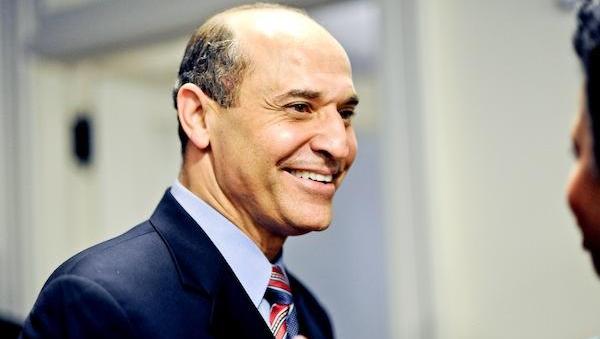 Arlington Economic Development Director Victor Hoskins believes he has a plan to help greatly reduce office vacancy rates in the county. (Washington Business Journal)
Hoskins conceded the last five years "have been devastating" for the region's office market. Two big federal agencies announced plans to move from Ballston to new headquarters outside of Arlington, the Pentagon's 2005 Base Realignment and Closure plan shifted Defense Department agencies from millions of square feet of leased space to government-owned centers elsewhere, and private companies in Arlington and elsewhere shed large chunks of space in the name of efficiency.
That has come amid increased competition from local governments in other parts of Northern Virginia as well as suburban Maryland and the District, where Hoskins formerly served as deputy mayor for planning and economic development. Many of those competitors set aside significantly higher portions of their budgets for economic development than does Arlington. And while its competitors have their own incentive funds, including $50 million in Prince George's County and $12 million in the District, Arlington does not.
"You cannot change something if you don't invest in it. You can't change your future if you don't invest in it," Hoskins said.
If you're not in commercial real estate — and much of the audience at Marymount University attending the breakfast session was not — you might be tempted to write off the problem of elevated vacancy rates as someone else's problem. But Hoskins, who has worked at the Maryland Department of Business and Economic Development, said Arlington needs to get aggressive about tackling the problem or county residents could soon feel the pinch.
Commercial businesses in Arlington currently carry about 48 percent of the tax burden, compared with 52 percent for residents. Rising vacancy rates, however, have cost the county's coffers about $34 million a year in lost revenue. If that keeps up, Hoskins said, Arlington might need to shift that balance to be closer to 70 percent on residents and 30 percent on commercial. And if that happens, the average Arlington taxpayer now paying $5,775 a year in taxes would see that amount increase to $7,835.
Arlington economic development officials have already started to take a more aggressive path toward recruiting and retaining tenants. Those efforts paid off with plans by German grocer Lidl to establish its U.S. headquarters at National Gateway and CEB Inc.'s decision to remain in the county.
Hoskins, however, said the path forward will be a slow one, since the county's office market saw some 2.8 million square feet of negative absorption over the past three years. He estimated the county would need to see positive absorption — meaning more space was leased in total than was given up — of 720,000 square feet per month for more than three years to dig out of that hole.
A big part of the strategy is selling the county to prospective tenants that it has not pitched to in the past. Arlington made a pitch in March to Chinese business leaders during the SelectUSA Investment Summit, and attended the International Council of Shopping Center's big convention in Las Vegas this year for the first time in more than a decade.
Hoskins also noted Arlington worked in collaboration with Alexandria to have a presence at the annual South by Southwest festival and conference in Austin, Texas — that despite Alexandria having used the lure of an incentives package to help bring the National Science Foundation's headquarters from Ballston to Hoffman Town Center. Arlington made overtures to Fairfax County on the SelectUSA and South by Southwest events as well, Hoskins said, though the county declined.
The information above is for general awareness only and does not necessarily reflect the views of the Office of Economic Adjustment or the Department of Defense as a whole.