August 26, 2015 – Pacific Business News
The Air Force Research Lab and the Hawaii Center for Advanced Transportation Technologies have reached a $20 million agreement to develop a microgrid to increase energy efficiency, officials announced Wednesday.
The new energy system will allow the 154th Wing of the Hawaii Air National Guard and the 199th Fighter Squadron to manage a system independent from the main power grid.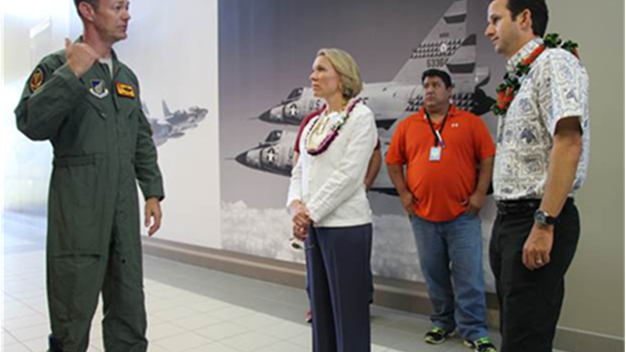 Sen. Brian Schatz met with leaders at Joint Base Pearl Harbo-Hickam and toured facilities impacted by the cooperative agreement on Wednesday.
Electricity will be provided by the Air Force-HCATT hydrogen fuel cell source already on base, as well as other planned onsite renewable energy projects.
"The Air Force's effort to develop a microgrid testbed in Hawaii will help ensure that the Air National Guard has access to the energy it needs to execute its defense and homeland security missions, while providing a proof of concept that alternative energy and microgrid technologies can support the Air Force's broader energy security goals," U.S. Sen. Brian Schatz said in a statement.
The Air Force Research Lab has committed an initial $3.2 million for the project.
The information above is for general awareness only and does not necessarily reflect the views of the Office of Economic Adjustment or the Department of Defense as a whole.