September 26, 2015 – The Tribune-Democrat, By Kecia Bal
Through a new local venture, technology developed to train soldiers or assemble battalions can be employed to sharpen skills and build better teams at companies and corporations.
Through software and web-based platforms, company leaders of a new Johnstown startup, Metricity Inc., plan take that defense technology to the private sector, targeting human resource executives in two main markets: large, corporate customers and small business.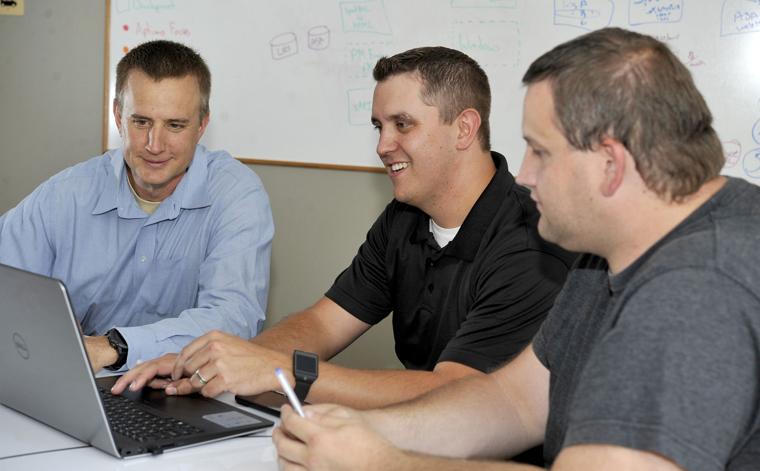 Rob Mowery (left), product owner of Metricity, works with Ryan Krinjeck (center), senior software engineer and technology lead, and Dave Richard, senior software engineer, at the Problem Solutions building at Richard Square II on Aug. 28 (Todd Berkey/ The Tribune-Democrat).
On a smaller scale, the technology will urge human resource professionals to rethink how organizations approach talent and work, Metricity co-founder and President Kevin Coppersmith said.
"This can be an entrée into learning and applying next-generation human resources techniques," he said.
In organizations already focused on high-level human resources issues – talent management, career development, retention, engagement – the technology provides advanced tools, making data more valuable and employees better matched to their skill sets.
"Companies have a tremendous amount of data," Coppersmith said. "We're using that to help companies train and develop employees.
"This will create valuable corporate intelligence, make data smarter, people better and teams more effective."
The software also can be used in reviewing job candidates and help with retention ¬– as those who are offered guidance along their career paths and development opportunities are more likely to invest their time and talents at an organization and take ownership of projects and products.
"It all leads back to retention, engagement and job satisfaction of your team," Coppersmith said. "Through this technology, we can empower people within an organization."
The startup is a second spinoff of Aptima Inc. through a ventures affiliate, Aptima Ventures, established to identify and commercialize high-potential technologies from a handful of sources: Aptima, leading universities and federally funded research programs.
Aptima Ventures invested in Johnstown-based Problem Solutions to launch new companies in learning, training and human performance. The first spinoff, SkillBlaze, offers a platform to connect students and young professionals with experts in their fields.
For Metricity, team members from Problem Solutions will be working alongside engineers for Aptima Inc., which has developed military technologies with about $150 million in government investment, and the company will require new hires: full-time engineers.
For local clients, the products also can help companies keep younger professionals in the region with opportunities for development and company cultures that they might otherwise have to leave town to find.
"How do you think about giving these people opportunities?" Coppersmith said. "You build a bridge. It changes the way you think about managing talent, especially in a hot market where you need to be able to retain young people."
While traditional HR functions often are easily replaced by computer functions – paperwork can be completed and managed through online portals, for example – Metricity's tools guide companies toward more sophisticated – and, ultimately, more productive – approaches, Coppersmith said.
"HR executives today can focus more on operations and strategy, considering tactics like teaming and where talents are best allocated to nurture individuals, retain them and help them contribute to a stronger overall organization," he said.
Aptima Ventures partnered with Problem Solutions to launch the new companies, tapping local concepts and resources, such as Pitt-Johns¬town, with hopes to reach farther into the region's ample defense sector capabilities and turn those technologies to enterprise ventures for the commercial sector.
The concept follows a model Aptima Inc. applied in Dayton, Ohio.
"This is a prime example of government technology transfer," Coppersmith said. "We've spent time designing a venture creation process that considers the unique challenges of commercializing technology developed for the military."
A federal program, Small Business Innovation Research, has fostered similar thinking - to help communities that relied heavily on defense find ways to create value in the private market. Already, a study through the Department of Defense's Office of Economic Adjustment is underway locally to help contractors and subcontractors to the government identify ways to adapt and diversify.
Metricity's chief technology officer, Rob Mowery – who has worked in defense, enterprise and commercial markets – said the team's approach extends the benefit of government innovation investments.
"The market adoption of these promising, emerging technologies leverages taxpayer investments for the benefit of the commercial sector, instead of becoming shelfware," he said.
Working with technology already developed and tested reduces risk for investors, too, Coppersmith said.
"In this space, there is a massive growth opportunity, especially for government contractors," he said.
"It's a collaborative approach. In this region, there is a wealth of defense technology. This is a call to action for those who want to be partners."
Metricity's technology, too, has potential beyond its initial offerings, Coppersmith said.
Similar training models could be applied to other sectors. It relies, in part, on observer-based performance measures through expert observers, immediate feedback and an ongoing database library – so learning and improvements are dynamic – not static – and shared with anyone tapped into the system.
"That piece can be applied anywhere where learning is critical," he said.
The information above is for general awareness only and does not necessarily reflect the views of the Office of Economic Adjustment or the Department of Defense as a whole.